Add a humidifier to your home to improve air quality and keep your home's air healthy all year long
Humidifiers Installation and Maintenance
Having Home Air Plus install a humidifier into your home's air heating system will not only allow you to set the humidity level you want throughout the house, but it will also greatly contribute to the overall health of the air you breathe. Home Air Plus can help you with your home's humidity by diagnosing any indoor air quality issues and helping you choose the best solution to save on heating costs and deliver better air quality. If you already have a humidifier, we can make sure it is running at peak efficiency.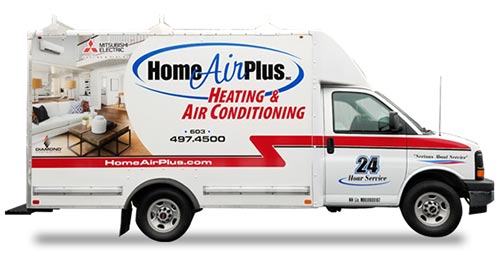 Humidifiers from Home Air Plus provide:
The capacity to humidify your entire home
Optimal humidity to combat viruses and bacteria
Savings on your yearly energy costs
Like all of our heating and cooling services, we provide ongoing maintenance and repair for humidifiers.
Call 603-497-4500 to schedule your air quality inspection today.
Home Air Plus sells and installs Aprilaire whole-house humidifiers
Home Air Plus installs humidifiers from Aprilaire, a leader in humidification technology and air filtration solutions. Aprilaire has a wide range of models that deliver trouble-free performance and require a minimum amount of maintenance. The ideal humidity of your home is 30 to 50%, and with solutions from Aprilaire, Home Air Plus can help you meet that goal.
Watch the video from Aprilaire to learn more about how an Aprilaire humidifier can help you achieve a healthier house.
Keys to healthy air
Creating the ideal level of humidity
The ideal humidity you want to achieve throughout your house is 30-50%. If your humidity is too high, it creates the ideal environment of mold spores, bacteria, and allergens that can affect your lungs. Improving the quality of the air in your home will enhance the overall health of your family.
Preventing dry air
Dry air can lead to increased dust and dust mites. Add moisture to the air with a humidifier to create healthier moisture levels.
Install an air purification system
An air purification system improves air quality and lengthens the service life of HVAC equipment.
Ready to get started with your new humidifier?
Contact us today! We can help you choose the most affordable and energy-efficient solution for your home.
Request Service