New Hampshire's source for ductless mini split air conditioning solutions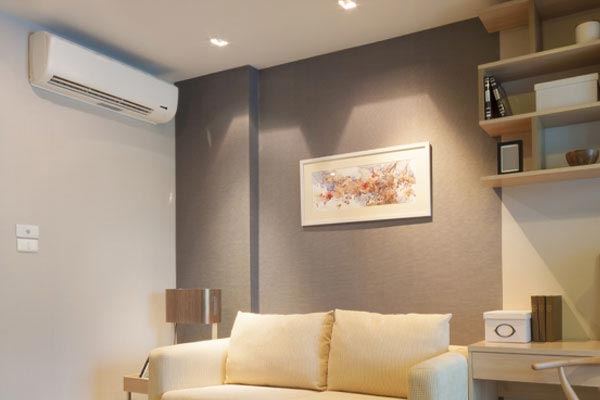 We offer the Mitsubishi line of ductless air conditioning. Mitsubishi is unmatched in noise level, efficiency, and reliability. Mitsubishi is the air conditioner educated customers ask for by name.
Home Air Plus, Inc. offers Mitsubishi ductless air conditioners from 6,000 BTU to 48,000 BTU and all the way up 33 SEER efficiencies. These models come in many different configurations, and most can be installed in one day. All of our Mitsubishi installations come with an exterior unit pad/stand and a vinyl piping enclosure system for a professional look. Heat pump models are also available for supplemental heating.
Our servicemen are EPA licensed, factory-trained and certified from Mitsubishi, and carry the latest tools and equipment to get the job done right. As a Mitsubishi Diamond Contractor, we are able to offer longer standard warranties than other dealers at no extra charge. And don't forget, all mechanical equipment requires maintenance/checking from time to time. We have a maintenance plan for you, and we can schedule something that fits your busy schedule.
Why choose ductless air conditioning?
Going ductless means that temperature changes are supplied directly to the room you want. They may also be called ductless split systems, ductless mini split systems, or split systems. Ductless air conditioning solutions can be installed almost anywhere, including in spaces that already use forced air, as a supplemental way of cooling hard-to-cool areas. Ductless mini split systems also operate on less power, so that means more money in your pocket when it comes to your energy bill. Ductless mini split units are generally smaller, and you are far less likely to lose efficiency between rooms because you don't have potentially leaky ventilation systems delivering your cool air.
Why Mitsubishi Electric?
Mitsubishi is the premier name in ductless mini split systems. Watch the video to learn more about Mitsubishi air conditioners.
What is ductless AC and why would I want it?
How does ductless air conditioning work?
In some cases, central air conditioning is not possible or the system would need a little help, making ductless split systems ideal. A ductless AC unit is installed on your room's wall, ceiling, or floor and connected to an outside unit that pumps in refrigerant. The ductless AC unit actually creates the cool air and distributes it directly from the unit. If you have a home that is run entirely on ductless units, you will have a ductless AC unit in each room that will deliver consistent, cool air to your room.
Is a ductless AC a good addition to a central air conditioner that doesn't cool equally?
Ductless split systems can be installed on its own or serve as a solution for areas that your central air just doesn't reach very well.
Are ductless AC units cost effective?
Ductless mini splits are far less expensive than central air, easier to retrofit, easier to zone properly, and operates much more efficiently than a central unit. You can save up to 30% on your electric bills running a ductless unit over a window unit.
What about in the winter?
If you fit your ductless mini split unit with a heat pump, it can become a great source for heat in the winter.