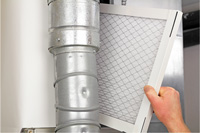 New England winters are tough! Deciding what heating system is best for you can be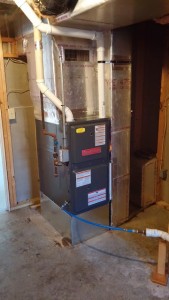 tough too. At Home Air Plus, Inc. we offer a broad range of high efficiency heating equipment including oil, propane (LP) systems, natural gas, and heat pumps. We can help you choose the system that's right for you. We have been doing this for over twenty five years and have a long track record of satisfied customers. We offer computer design services, at no extra charge, that will save you money in operating costs and keep you warm on those cold winter nights. We can also tell you about any Federal, State, or manufacturers rebate programs. And, of course, all estimates for complete systems are free!
Did a service call just turn into an emergency? Were you just told that your system must be shut down because it was no longer safe to run? No Problem! Don't forget about our legendary emergency service! We can handle most emergency furnace replacements. Our servicemen are licensed NH gas technicians, factory trained, and carry the latest tools and equipment to get the job done right. We also have daily service. Service when you need it! Maybe you're looking for furnace maintenance, we've got you covered. We have just the right maintenance plan for you and we can schedule something that fits your busy schedule.
Contact Us!